Posted by Benjamin Mailian on 06 March 2013
EGIA and SnuggPro team up to deliver incredible value to their members & customers.
Snugg Pro is a cloud-based PC, tablet and smart-phone sales tool for home performance contractors and energy auditors.
The Electric & Gas Industries Association (EGIA) is a non-profit organization dedicated to advancing energy efficiency and renewable energy solutions through the home improvement and renewable energy industries.
Massive discount for SnuggPro users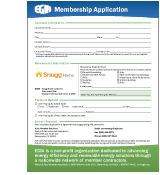 As part of this partnership, our awesome SnuggPro contractors can become EGIA members for just $195 a year. That's a saving of $55 off the regularly priced membership of $250!
With your EGIA membership, you'll gain access to EGIA's suite of member benefit programs that are designed to help contractors grow their business and become more profitable.
Visit the EGIA website or download the EGIA membership application to get started.